Digital intraoral camera
The dentist uses a small camera inside your mouth to take a magnified digital image of your teeth. Images are displayed on a computer monitor and they are extremely practical for diagnosing and detecting dental problems. When evaluating your teeth, intra-oral photos also allows and helps the patient to see what the dentist sees.
Digital X-ray (Computer Digital Radiography)
Digital X-ray is the latest way to record and evaluate x-rays. It gives less radiation (90% less). The Digital X-ray is induced in about 1 minute and the images have a very high quality. These images are viewed on the computer screen, which makes it easier to see, identify and understand any problems. In addition, this new technology is environmentally friendly, as no chemicals are used to produce the image.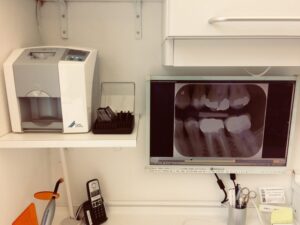 Digital (computer) journal, billing system, e-mail and sms reminder
Journal information including examination results and x-rays are stored on a secure and complex dental computer system. The digital journal allows quick and easy access to information during your visit to the clinic. All information is protected by current laws and regulations. We will, as far as possible, use e-mail and sms reminder for appointments. If you do not have an e-mail or mobile phone, you can ask for mail or phone call.
Dental Laser
Diode laser is a high-tech supplement for periodontal treatment.
Dental implants, bone and soft tissue grafts, seed samples, geneest, etc.
Experience the benefits of these advancements in periodontal treatment. It is just one of the benefits of being treated by a dentist who is a specialist* in periodontitis.
*Specialist education obtained in the USA.
Invisalign, Inmann Aligner and ClearCorrect dental regulation / orthodontics
Invisalign, Inmann Aligner and ClearCorrect are revolutionary, metal-free way of regulation.